Backup Up Your Information
Backup is the single MOST important DAILY function to be done on the computer. Unless you can remember every appointment you scheduled during the day, you MUST do backups daily. Backup requires, at most, fifteen minutes to save everything you have done during the day. Hard disk failures happen without notice. I have seen a computer drive work one week and on Monday when turned on nothing was accessible. By having a backup you can recover your information.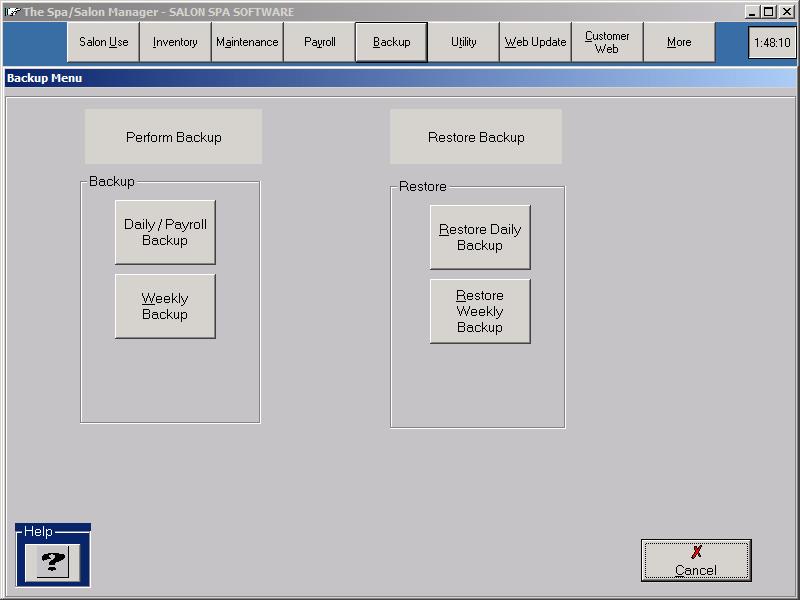 Backup is accomplished by inserting a diskette or other backup device into the computer and selecting the Backup Menu by clicking the More button.
From the Backup menu choose the Daily Backup option. A blue and yellow line will progress on the screen. If the backup flashes within a second the backup is not working and you should check the Backup Drive letter under Maintenance Backup or call technical support.
Backup flash drives should be rotated. Using a single flash drive gives you one chance to recover your information. Using two backups doubles your chances of recovering your information.
Using a tape back system is another way to do your backup and this method is recommended. However, you must develop a good rotation system for your tapes as this is essential to ensure you have the backup you need. Full backups (all files) should be done weekly and a modified backup should be done daily. Restoring of backups is different for every tape drive. You must understand how to restore those backups in case of an emergency.
The Spa-Salon Manager supports CD-Rom based backups on newer computers. CD Backups must be verified under My Computer, not all CD writers are compatible with the Spa-Salon Manager software. If the Spa-Salon Manager determines that a CD Backup is possible on that machine a prompt appears on the backup screen showing Use CD Drive for Backup. Check marking this selection makes a complete data backup of the system each time. This includes Daily Backup, Payroll and Weekly Backup. If you plan to use CD Backup, please use a different CD for each day of the week. That is your best protection from a problem and since a CD can be read in any machine, you can be back up and running quickly in the event your main computer crashes.
The newest technology available for backups. A single USB Flash drive can hold your entire backup on a device that fits on your key chain. USB Flash Drives are faster and much more reliable than CD Backups. We recommend using two flash drives to ensure you have a good backup rotating the USB Flash Drive each day. A 128 Meg. USB Flash Drive will handle most situations.